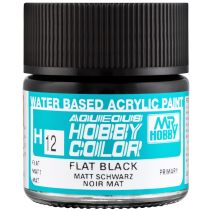 Aqueous Hobby Color to najwyższej jakości, rozpuszczalne w wodzie, nietoksyczne i bezpieczne farby.
Po wyschnięciu nie zmywają się i dają doskonałą barwę. Nie zatykają aerografów i dają idealną powłokę lakierniczą.
Mogą być stosowane do plastiku, papieru, metalu i ceramiki. 
Pełna paleta to 161 kolorów reprezentujących lotnictwo, pojazdy pancerne, okręty oraz samochody od czasów I, poprzez II Wojnę Światową do współczesności. 
Jeżeli szukasz farby w standardzie FS, BS, RLM po prostu wpisz w wyszukiwarce interesujący Cię numer.
Sposób użycia:
1. Przed użyciem dobrze wymieszać.
2. Na przygotowaną, oczyszczoną i odtłuszczoną powierzchnię nanosimy farbę za pomocą pędzla lub aerografu.
Jako rozcienczalnik, można stosować wodę. Jednak aby osiągnąć najlepsze efekty zaleca się użycie oryginalnego rozpuszczalnika firmy Mr.Hobby - Mr. Aqueous Hobby Color Thinner lub Mr.Leveling Thinner.
Rozcieńczać w proporcji 1:1-2. 
3. Po wyschnięciu, całą powierzchnię należy pomalować lakierem bezbarwnym, który utrwali naniesioną warstwę farby i przygotuje model do położenia kalkomanii.
Wskazówka:
Aby poprawić przyczepność farby, uzyskać gładką strukturę oraz trwałość malowanej powierzchni zalecamy zastosowanie jednej z podkłado-szpachlówek dostępnej w dziale "chemia".
Przechowywać szczelnie zakręcone z dala od bezpośredniego kontaktu ze słońcem.